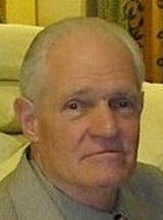 Obituary for Guerard "Gary" R. Swain, Sr.
Guerard "Gary" R. Swain Sr. (74) passed away peacefully at the University of Pennsylvania Hospital in Philadelphia, on Thursday, June1st, 2018.  Loving husband of 51 years of Marian (Ruza).  Beloved father of Gary Jr. (Denise), Debbie (Bob Hurd), and Cheryl.  Proud grandfather of Tyler, Sammi, and Erica (Kenny).  Great-Grandfather of Summer and Kenny III. Son of the late Herman and Ruth Swain.  
Gary was a lifelong Dallas Cowboys fan and you always knew where to find him on game day. He would either sit in front of his TV watching his beloved Cowboys or listen to them on the radio during his shift at work. Gary's life was like a football game, consisting of four quarters, which crossed a span of 74 wonderful years.
1st QUARTER: The game started on July 10, 1943 in San Angelo, Texas, where legendary Guerard "Gary" Robert Swain Sr. (named after his paternal grandfather) was born to the late Herman & Ruth Swain, and became their only child. As a little boy, he didn't dream of throwing passes or kicking field goals. He wanted to be a Veterinarian or a pilot. Neither of which he did. His parents taught him at a very young age to be good, be a Dallas Cowboys fan for life, and to always follow the golden rule. This is something he passed on through the years, as well as his generous spirit and giving heart. In growing up in a military family, Gary moved from Texas to Frankford, to Springfield, PA. He kept the military tradition alive (his father was a WWII Bombardier in the US Air Force), and held his first job in the US military as a radar operator for Protect USA where he tracked planes on radar. He served 4 years in the US Air Force and 2 years in the reserves. In February 1965, he received an honorable discharge. The first score of his game was meeting the love of his life, a Slovak beauty named Marian Theresa Ruza on a blind date in 1965. After making a few passes with her from April 1965 until October 8, 1966, they tied the knot at Holy Cross Church. They lived in an apartment in Drexel Brook, Drexel Hill. At that time, Gary worked as a Lab Technician for American Viscose in Marcus Hook making a lot less that a quarterback's salary at $90 per week. After making many passes and plays with Marian, they reached the goal line and it was the first celebratory TOUCHDOWN of the game, the birth of a child. On November 20, 1967, their first son, Gary Jr was born.
2nd QUARTER: In June 21, 1969, another TOUCHDOWN occurred, and their second child Deborah Anne Swain was born. In this same year, Gary started his 40 year run at Sun Oil 10 Plant at Sun Refinery in Marcus Hook becoming a Senior Chief Operator overseeing a crew. He officially threw in the towel and retired at age 65.
3rd QUARTER: The game was far from over. On July 21, 1978, and a fluke play, Cheryl Lynn Swain was born, their third child.
4th QUARTER: Over the years, this legendary son, father, mentor, friend, husband and Grumpa, never gave up and always played fair. He was often found taking care of animals (his own or in nature); talking to every person he came in contact with about sports, politics, religion, weather, news or history. He was very knowledgeable in most things, and people far and wide were impressed with his brilliant mind and wisdom. He never missed a Dallas Cowboys game, and was a huge fan of Roger Staubach. Growing up close to Philadelphia, he tended to get teased a lot by his football team choice, but always let it roll of his shoulders. He had a profound love for his three children and their spouses Bob (Debbie) and Denise (Gary), his grandchildren (Tyler, Sammi, & Erica and grand pets), great grandchildren (Summer & Kenny III), his cat baby (Starr, aka love bug) and would spoil them all in many ways he found possible. He enjoyed going out to eat at diners and restaurants in West Chester with Marian and throwing out bread and crumbs to all the animals at East Goshen Park and those that came up to their front porch. He loved playing pinochle, listening to his favorite song "Free Bird" by Lynard Skynard, people watching on the boardwalk, eating thrashers French fries, and smoking cigars as the Cape May-Lewis Ferry passed by. He loved to dance, and even showed off his dancing skills by winning 1st place in a contest with Marian years ago.
He learned the rules of life, he gave to the poor, practiced his faith by talking to the Lord daily, was known as the "animal whisperer", and stayed a true Dallas Cowboys fan until death. The saying goes, "From cradle to grave, Cowboys we shall remain!" He bled blue and silver until the very end.
END OF GAME: On June 1, 2018 at 4:52am, the game was officially over. No more pain. No more suffering. But a man of honor reached his own Ring of Honor in Heaven and was called home to be with his Lord. He always said his goal was to get to the basement of Heaven, and he would have been happy with that.
As Don Meredith would burst into a Willie Nelson song, "Turn out the Lights," Gary would sing "The Party's over." This game and party might be over, but the legendary Guerard Robert Swain Sr. will live on forever.
His life is what legends are made of.
VISITATION WILL BE AT FRANK C. VIDEON FUNERAL HOME, SPROUL & LAWRENCE ROADS, BROOMALL ON THURSDAY, JUNE 7TH FROM 10-11AM.  FUNERAL SERVICE WILL BEGIN AT 11AM FOLLOWED BY INTERMENT AT WEST LAUREL HILL CEMETERY.
IN LIEU OF FLOWERS, DONATIONS IN MEMORY OF GARY CAN BE MADE TO CANINE PARTNERS FOR LIFE, PO BOX 170, COCHRANVILLE, PA 19330 OR ST. JUDE'S CHILDREN'S HOSPITAL, PO BOX 1000, DEPT 142, MEMPHIS, TN 38148-0142.